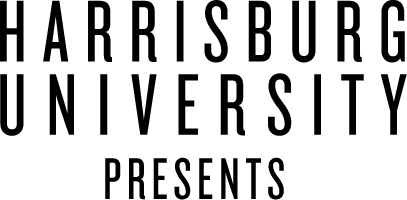 The Forum's Starry Ceiling Wasn't the Only Light Show – Rodrigo y Gabriela Dazzled the Crowd Too!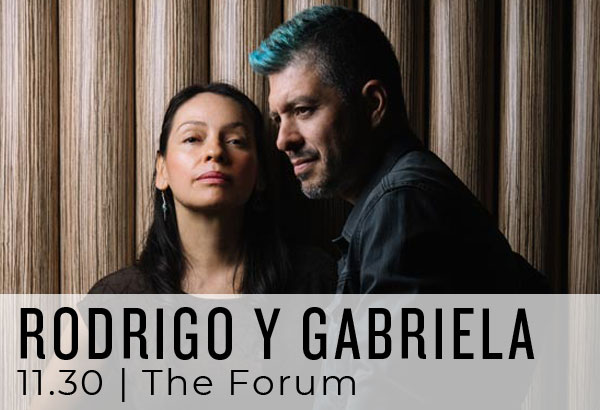 By Jessica Aiello
As the lights of the Forum Auditorium in Harrisburg dimmed, I wasn't sure who would be taking the stage as the opening act for the Rodrigo y Gabriela show on Saturday, November 30, 2019, but I knew, given the previous acts I had seen as part of Harrisburg University (HU) Presents, we'd be in for a musical treat. And I wasn't wrong… the husband and wife duo known as Ida Mae rocked the house for just over a half-hour.
Chris Turpin's stringy blond hair hung in his youthful face for much of the bluesy, folksy, and country rock inspired performance. Turpin wore a black and white cowboy shirt as he played his shiny steel guitar. Wife Stephanie Jean stood slightly apart in a sparkly black and silver dress, singing a bit like Alison Krauss as she played the tambourine.
What was especially impressive about the duo was where they came from – Bath, England. You'd think they were Nashville born and bred (until you hear their accents), but they've only been living there the past 12 months. Turpin said Pennsylvania is "one of the creepiest states to drive through." "No offense," added Jean, to some laughter from the audience. And they would know. They've seen more of the U.S. than most Americans have, visiting and performing in an impressive 41 states in one year, opening for performers like Greta Van Fleet and Willie Nelson.
Ida Mae reminded me of The Civil Wars, with breathy vocals and country rock sensibilities, but hopefully Turpin's and Jean's relationship will have a happier ending than The Civil War's did (a divorce led to the band's break-up in 2014). With songs like "My Girl Is a Heartbreak" and "Sweet Abandon" I think it's safe to say they'll be making beautiful music together for a long time to come.
That couple ultimately gave way to the star duo of the night – Rodrigo Sanchez and Gabriela Quintero, known more familiarly as Rod and Gab. While not a husband and wife duo, Rod and Gab have been performing together for 20 years. And yet, this was the first time either had performed in Harrisburg. Clearly word had spread about their talent, as the auditorium was full of adoring fans.
Based in Mexico City, Rod and Gab are wrapping up a world-wide tour that showcases their unique Hispanic, jazz, and heavy metal inspired guitar performance. Both came on stage in simple black and grey ensembles and sat on an elevated platform in the middle of the stage as lights were projected on the ceiling. Their bodies remained still, but their fingers flew along the guitar strings like moths above a candle flame. It was easier to keep track of their impressive finger work thanks to two cameras mounted on the headstock of each guitar. Video from each was projected on a large black backdrop behind the performers, giving us all an intimate view of their passion and artform.
This video, coupled with the many colored and shaped lights, fog machine, and graphics projected on the backdrop, created a trippy, laser show-like experience for the audience. It was the perfect ambiance for songs like "Echoes", their tribute to Pink Floyd, which was part calm, dreamlike lullaby, part epic rock opera. Being at a Rod and Gab show is somewhat like seeing dueling pianos at work, except that instead of competing, they are complementing one another, challenging each to more complex and skill defying heights. They also challenge audience members to get out of their comfort zone, encouraging people seated in the back to move up to the front to dance, clap, and have as much fun as they were. This was especially true for Gab, whose ear to ear grin was infectious as she bopped around the stage. Rod was more introspective, closing his eyes and grooving to the gift of music he's been given.
After an hour of playing, we thought the show might be over, but Rod and Gab were having too much fun. They came back out for an additional 30 minute encore that had the whole crowd on their feet. The clapping was near deafening. The energy level was on point. And those in the audience who weren't fans of Rodrigo y Gabriela before the show certainly were fans now.
<script type="text/javascript" src="//downloads.mailchimp.com/js/signup-forms/popup/unique-methods/embed.js" data-dojo-config="usePlainJson: true, isDebug: false"></script><script type="text/javascript">window.dojoRequire(["mojo/signup-forms/Loader"], function(L) { L.start({"baseUrl":"mc.us20.list-manage.com","uuid":"dfddf4e254be231c9a073d389","lid":"d0a5fab2cf","uniqueMethods":true}) })</script>